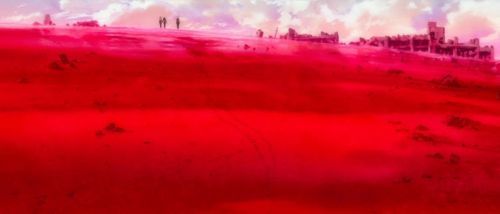 It's been a difficult week for me.
Now, before this becomes the too-personal power hour on all things Evangelion, allow me to explain the contextual emotions I went into this film with. I had put off watching
Evangelion 3.33: You Can (Not) Redo
for some time even though I had pre-ordered it. This was due to the fact that I didn't think 1.11 or 2.22 were all that revolutionary or interesting, apart from the artwork. Then, a few days ago, I came across some information on an old friend that crushed me. There's no other word for it. It was as though I was being stabbed continuously. Spending the rest of the day sobbing, wallowing would have been easy. But I figured, I have this DVD, let's watch it.
There's something so incredibly genuine, emotionally, about
3.33
's core that it helped me work through my feelings. And while the pain is still there, I have an understanding that the pain will always exist - the only thing I can do is move forward. My disappointment in 1.11 and 2.22 only made the good within 3.33 seem that much more impressive. As I said, there is an emotion that this film touches on, as the original Evangelion series did, that resonated with me so spectacularly.
3.33 is not a perfect film and I did have my problems with some of the changes, but I can't deny the fact that it has helped me in some way. In emotion and thematic elements, 3.33 has far more depth than 1.11 or 2.22 ever had.
(
Breaking apart the world is a trivial matter. Rebuilding it, however, is not so easy.
Collapse
)